Fact Checked
Causes of Athlete's Foot
The fungus that leads to athlete's foot can be seen on floorboards and in socks or clothes.
Wearing shoes that aren't ventilated properly causes feet to become infected with fungus.
Although the disorder is just an uncomfortable annoyance for most individuals, the wounds can sometimes become septic.
Symptoms Of Athlete's Foot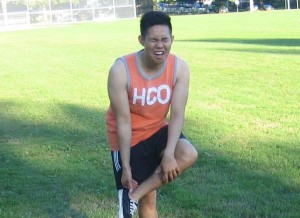 Burning, stinging, and fiery feet.
Split, scaling and flaking skin, mainly between the toes, and occasionally spreading to the soles. In certain cases, bleeding could occur.
Also in some cases scaling or flaking of the soles can become evident.
There may be signs of blisters.
Progressive Symptoms
In progressive stages some of the following symptoms might follow:
White, moist skin in the webs of the toes.
Nasty smell.
Discharge from the blisters.
Clotting, peeling and bruising of the toenails can occur if they become septic by the fungus.
Discomfort in the affected regions.
Treatment Of Athlete's Foot
Athlete's foot can come right by itself but make sure you clean and dry your feet prior to wearing socks and shoes.
Shoes must be kept dry. Cotton socks or beach sandals are suggested if possible.
Using antiseptic foot powders is suggested, which will be able to keep the feet dry.
Anti-fungal ointments, lotions, powders or sprays can be used. It is essential to keep applying these treatments for the suggested periods to guarantee the fungus is fully removed. For some of these treatments, it can take up to two weeks for the symptoms to disappear completely.
Related Video On Athlete's Foot
https://www.youtube.com/watch?v=yUsBHNuHJ0M